TDB Arquitectura-Juan Trias de Bes: Offices in Sant Cugat del Vallès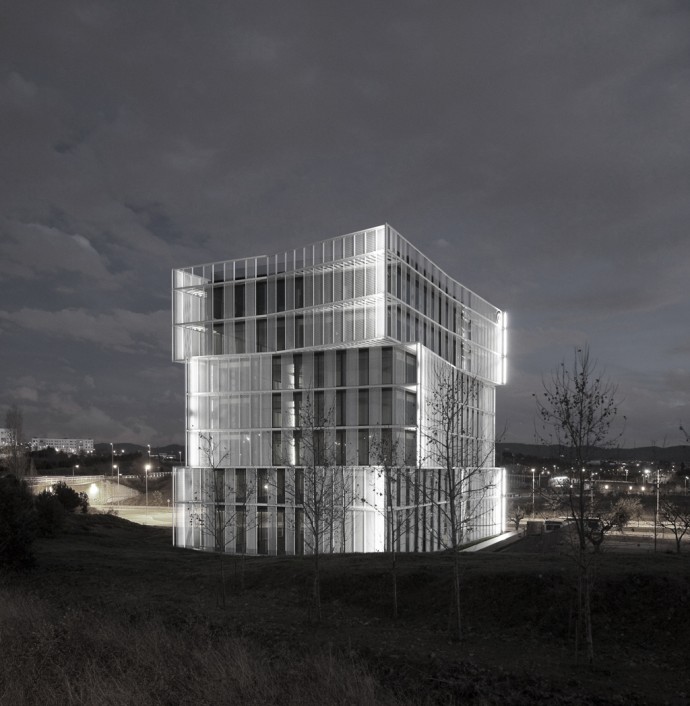 On a site strongly marked by its proximity to the highway linking Girona and France, we were to construct a building of 10,000 m2 of roof. While unable to transform the urban spaces around the building, the design seeks to establish a dialogue between the user and the environment, dispersed and diverse . The project is about understanding visual perception between the interior and exterior of the building. From here come all constructive considerations— between the contrast of the static and the dynamic, of the firm, objective concrete structure and the soft, subjective metal curtain.
The cubic, concrete-blocked construction and the weightless enclosure establish a clear construction strategy that allows organized contracting and construction that avoids interferences between structure and exterior envelope. The concentration of resources is evident, as is the material contrast – the construction in supported by the architecture.
Most observers will see the building while passing at high speed through the fast surrounding highway. Thus the envelope cannot appear static like so many buildings of the urban center. After all, even users of the nearby sports facilities are in constant motion. For this reason, the envelope was designed to emphasize the movement of the viewer, as if the facade was actually accompanying the moving cars. Meanwhile, the user who stands still outside the building observes the tangential exterior movement, watching as cars and people approach and recede into the distance. The building responds to the different lighting conditions of day and night. During the day, light filters through the facade, protecting the building and user from direct solar radiation. At night, the building emits a soft glow that accompanies the traveler home and distracts from what happens inside. Privacy concerns exist for the exterior; however, intimacy does not necessarily imply isolation or incommunication. The building protects its occupants from being seen, but also interacts with passers-by with its interesting exterior facade.
Adress: Avda. Via Augusta s/n.Sector C. Can Bellet. Sant Cugat del Vallés.
Consultants: Structure: Static, Mechanical: grupo JG, Ilumination: Artec, Quantity Surveyor: Ricardo Villoria
Collaborators: Maria Barcina, Marta Pascual, Carles Guilera
Area: 10.539 m2
Budget: 6.405.750 €
Photography: Alejo Bagué
One Response to "TDB Arquitectura-Juan Trias de Bes: Offices in Sant Cugat del Vallès"