Roldán + Berengué, arch: El Pinar Community Center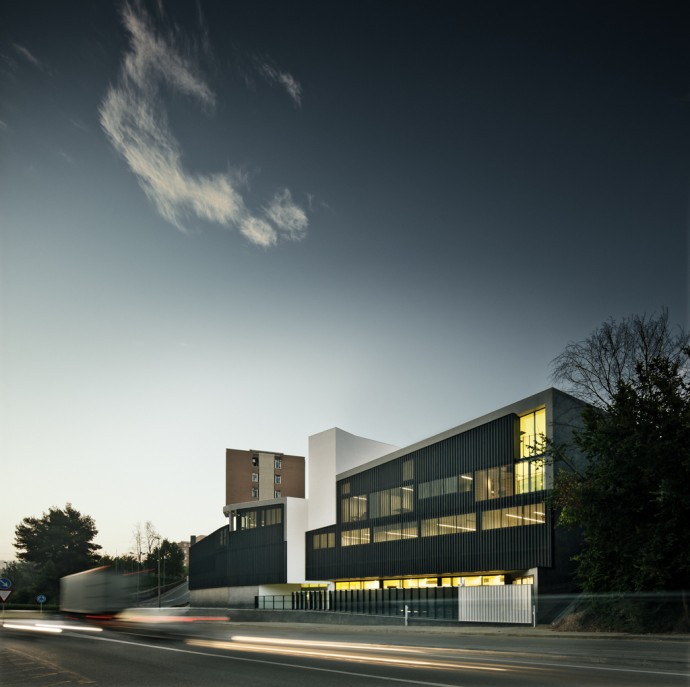 Quaderns #263
code: 26334
The community center "El Pinar de Rubí" is located on a 60-meter long plot, east-west oriented and having a strong cross-slope of 52%. The lower façade, near the C-1413-A junction, is located at an elevation of + 181. The opposite façade, on a plateau at + 189, is the end of a forest that forms part of Rubi's Archeological and Natural Heritage Catalogue. The building is 75% partially buried against a retaining wall that supports the base of the mountain.
The project, which extends over the whole plot, has in plan and section the shape of a butterfly.
On the left wing, which has two stories, there is an auditorium, and above it, a nursery for the neighborhood children.
On the right wing, distributed among three stories, there is a small gym, classrooms for adults, the exhibition area and the social premises.
From across the road, the building appears as a solid rock built from concrete with stones projecting different scales of gray along with ash colored perforated and corrugated metal sheets, while the single story façade facing the forest is a transparent and permeable body.
The pillars supporting the roof in the generously spaced areas are painted in such a manner as portraying the trees outside.
Visually, between the buildings two wings, colored in white tones and with the help of a small three story curtain wall, we find the permeability point between the lower and upper bounds of the terrain, becoming the link between the "upper" and "lower" doors.
This empty, double height space is occupied by the stairs and elevators, working as a connection between the left and right blocks. The outcome is a reproduction in image and function of the small, steep path that existed at the site prior to the construction of the community center.
Architects: José Miguel Roldán y Mercè Berengué (Roldán + Berengué, arqts.)
Site: C-1413 Road, Rubí, Barcelona
Consultant: Structural:  Bernúz-Fernández, Arquitectes, S.L., Mechanical:  Julián Passardi (ae-t Ingeniería – Tecnioracle, S.L.) i Joan Escanelles (PGI Grup), Quality and quantity surveyor:  Xavier Badia (Vinclament S.L.P.)
Collaborators: Vicenç Sanz, Isis Campos, Rosa Hereu · Juanjo P. Jarque, architects.
Area: plot:  758m2 buit: 1716,06 m2
Budget: 3.425.033,50  € PEC
Photography: Jordi Surroca