Close, Closer 2013 LONDON PREVIEW 13th June, 7pm | Début Award Final Call!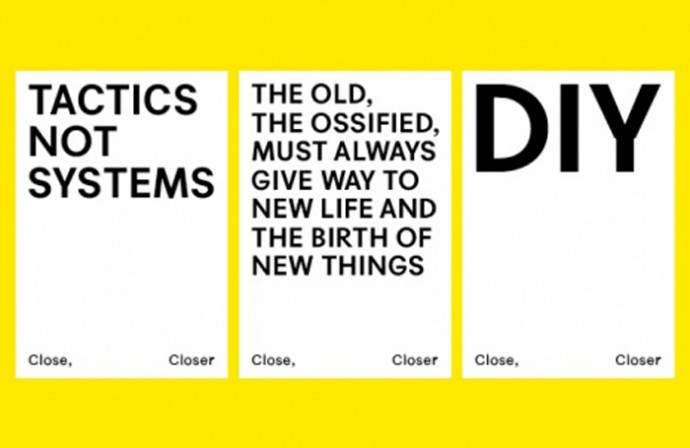 If you are in London this week, you are very welcome to join the team of Close, Closer, the third Lisbon Architecture Triennale for the Close, Closer London Preview hosted by Jeremy Till.
Close, Closer, the third Lisbon Architecture Triennale, is initiating a discussion on the future role of contemporary architecture as a wide-ranging spatial practice. We are addressing architecture in its broadest sense: as an agency for the transformation and design of space. Architecture as a living, social, cultural and artistic force that manifests itself in a plurality of outputs that go far beyond traditional construction.
At the London preview on 13th June, curators Beatrice Galilee, Mariana Pestana, Liam Young and participant Daniel Fernandez Pascual, will be sharing their ideas and plans for the third Lisbon Architecture Triennale, wich will take place from 12 September to 15 December 2013.
At the curatorial statement, we can read:
"The third Lisbon Architecture Triennale is being forged at a critical juncture. Far from distancing ourselves from this fact, we have chosen it as one of the main anchors of our curatorial approach, as well as to the challenge we have put forward to our participants and audience. We will even take it one step further. In the current scenario of contracting market economies and scarce resources, we propose to approach architecture as a platform for generating solutions and strategies, fostering debate and participation in designing a shared space and future.
What Close, Closer proposes is a vision of spatial practice as reaction, namely to the current economic and political climate, the social concerns and civic deficit we are facing. Driven by integration, this reaction is grounded in interdisciplinary dialogue and gathers momentum and strength through participation. "
At Close, Closer 2013 LONDON PREVIEW, they will be discussing all the ideas, exhibitions, installations and actions that will make up Close, Closer, the third Lisbon Architecture Triennale when it opens in September this year. The talk is organised by Building Design magazine, and places are free but do reserve your seat: bdrsvp@ubm.com
/// Thursday 13th June, 7pm
KPF London
7a Langley Street, WC2H 9JA
And a reminder that our Début Award for young architects (under 35) is closing on 21 June! A €5,000 prize and a place on our list of 10 honourable mentions is up for grabs. Download the guidelines here.