The Struggle for Housing: A Fotoromanzo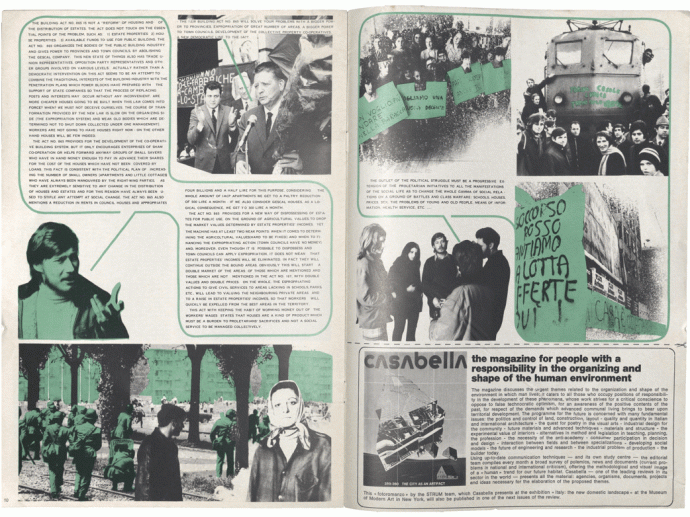 "The Struggle for Housing" was the first issue of a series of magazines published in 1972, by Gruppo Strum [Giorgio Ceretti, Pietro de Rossi, Carlo Giammarco, Riccardo Rosso, Maurizio Vogliazzo], as part of a project for the MoMA in NYC. Gruppo Strum choose the most popular means of communication in those years, the fotoromanzo or fotonovela, with the aim to communicate in the most effective way their research and statements. This first issue of the series of three included fictional articles on issues of architecture and Italian society from the perspectives of capitalists, workers, students, activists and architects. The other two in the series include "Utopia" and "The Mediatory City".
Emilio Ambasz, curator of the exhibition "Italy: The New Domestic Landscape" [MoMA 1972] described the work of Gruppo Strum:
"The Gruppo Strum, rather than presenting a physical design of a domestic environment, chooses rather to go out into the street. Its "stand" represents any corner, where they freely distribute three different pamphlets —red, white, green— drawn in the form of photo-cartoons.
The first pamphlet (white) depicts the present conditions of urban decay. The red pamphlet describes the methods which may be adopted to change the present situation. The green pamphlet catalogues all forms of urban Utopias presently envisioned by designers the world over."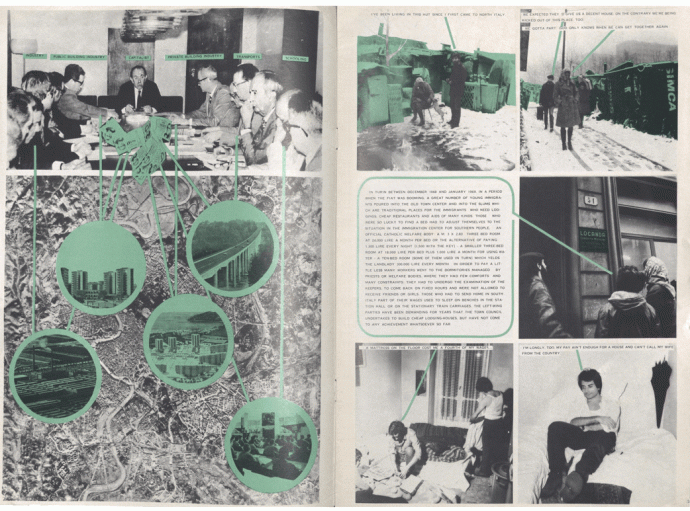 We are publishing "The Struggle for Housing" because on this fotoromanzo, Gruppo Strum published their statements related with the housing crisis in Italy in 1972. Now, we have a similar crisis in Spain, where it has been estimated that there are more than 20,000 skeletons of unfinished buildings, mostly all of them, housing buildings. If we read Gruppo Strum texts and change the word "Italy" for the word "Spain", it is possible to see how cyclical is our history and how the same situation in Italy provoked social and political reactions from the citizenship, such as here in Spain with the work of the group Plataforma de Afectados por la Hipoteca [PAH]. They are actively working to stop and transform the foreclosure processes, and have being capable of stopping housing evictions and even forcing legal framework changes. In times when even the European court found that Spanish legislation about mortgages goes against EU law, it's good to stop for a while and read Gruppo Strum statement:
"Many people in Italy do not have a decent home to live in, and some have no home at all. If they are not given one —and for the time being no one is likely to give it to them, they must get homes for themselves by organizing themselves into a political movement capable of overturning the trend of the current system in which their fringe existence and exploitation are functional [...] What they must procure, therefore, is not merely a home to live in but a city, so as to ensure for themselves a freer social life and one more in keeping with their needs. There have been many struggles for these goals in Italy. The white papers recount and illustrate these . facts, showing also how these struggles for homes continually reshape cities, by attacking and defeating the capitalist organization of territory together with the symbolic values of its formalization."
Here you can read and download the complete fotoromanzo "The Struggle for Housing"
The Struggle for Housing by Quaderns