Biomimicry: Copying never was so good.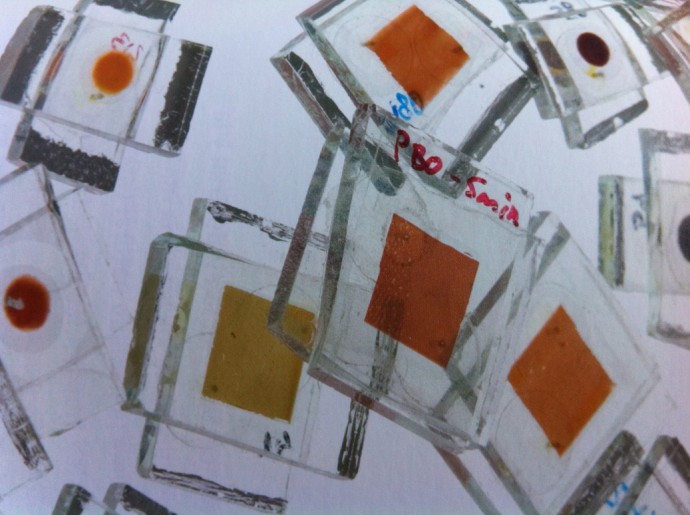 Collagen is a natural molecule which is the main component of connective tissue making around 25% of our body protein content. It is made up of amino-acids, which are in turn built of carbon, oxygen and hydrogen. It can be found in such different places like tendons, eye cornea and bones producing screw joints and assemblies; and its physical and mechanical characteristics depend on each one of its specific functions. What if we had a smart building material able to change dynamically its functionality just like the collagen does in our body?
Nature has been testing strategies for 3,8 billion years to solve design problems, sometimes even before they appear. The term biomimicry [Greek bios, life, and mimesis, to imitate] means to copy or emulate shapes or functional solutions of certain species of animals, plants and natural systems. Even appeared in 1982, the term biomimicry was popularized by scientist and author Janine Benyus in her 1997 book Biomimicry: Innovation Inspired by Nature. Nowadays the biomimicry community has grown and exchange knowledge and resources in networks such as Biomimicry 3.8 where you can find references on how spiders manufacture a waterproof fiber around five or six times stronger than steel, or how the process of green chemistry lead to electrons in a leaf cell to convert sunlight into fuel.
Similar examples are shown in the exhibition Biomimicry. Design Inspired by Nature in Roca Gallery London [Until 24th May] which was previously held in Barcelona. The general thesis of the exhibition is that any of the problems and challenges faced by architects, engineers and designers have been previously solved by nature and the answers to all our challenges are around in our environment.
The exhibition curated by Ramon Folch Studio shows some commercial products which mimic nature in shapes, functions and systems. From nature we have copied not only its shape [e.g. the hexagon of honeycombs], but also its function [geolocation of bats] and its cyclic and efficient system [a termite nest]. In each of the exposed solutions we can see an improvement for the final product: in some cases it is less friction, and therefore a higher efficiency, while in others it is a better space use. The efficient use of water can be found in products like Lotusan Paint avoiding drops to adhere to the painted surfaces; they run down carrying dirt particles away. Taking care of scarce water, AquaMat emulates the absorbent and hydrophobic structure of the Namib Dessert beetle. Applied to construction, it allows to collect water with a fog harvesting mesh that facilitate the consumption of drinking water in desert environments.
In one of its parts the exhibition also included four prototypes of products that are still in pilot stage: Stickybot by Stanford University: a vertical displacement device imitating small gecko toe which interacts at molecular level with surfaces thanks to a series of tiny strands generating a molecular attraction [the Van der Waals force], that only sticks when you pull in one direction. The second is an algae light generator called Latro Lamp by Mike Thompson, where a series of electrodes are inserted into the photosynthesizing organs – chloroplasts – of algal cells, thus generating a small electrical current from algae during photosynthesis. In the same line the project Bio-light by Phillips uses bioluminescent bacteria. In order to make this bacteria glow, you have to "feed" the microorganisms of the lamp with a mix of methane and compound made of waste generating a non-incandescent light by the interaction of an enzyme [lucyferase] with a molecule [luciferin], which emits light. More examples can be found in the Microbial Home project which is a proposal for an integrated domestic cyclical ecosystem.
The lectures held in Barcelona presented works of engineering, design and robotics closely linked to the functioning of the human body and perception. Some of the lecturers included Dennis Dollens, Frederic Fol Leymarie and Martín Azua. Stepping aside the presentations which were focused in biomimetic in its broadest sense it was remarkable the work presented by Materfad. This is a center monitoring research and technology in the field of new materials facilitating knowledge transfer between sectors as design, biotechnology, construction, transport and textiles. The technology tracking task allows to detect commercially available materials from one sector that can be applied in other fields. It is the only center on materials in Spain dedicated to innovation through a growing database, consulting and education activities and a showroom where designers can have a sensorial experience of new developments prior make a technical consultation to use advanced materials in their design project.
According to Javier Peña, director of Materfad, we are facing a great opportunity to incorporate innovations in the production processes going from austerity to the abundance of solutions that can be found in nature, to transform our consuming buildings to buildings producing their own energy and materials [like collagen in our body]. In doing so its quite important to adapt education curricula to a new understanding of materials. In recent years we have worked a lot raising buildings and cities but have learned very little things on links between matter, energy and information in nature.
To overcome this situation, Materfad is actively promoting connections with centers like Happy Materials [Prague] and Danish Design Centre [Copenhagen] which whom they have set DAMADEI network to connect design and technology worlds through materials. At present, the network is also expanding to Latin America [Aguascalientes, Valparaiso and Medellin].
Recent advances in synthetic biology reveal the potential of using the basic unit of life [the cell] for product development through nanotechnology. We are starting to develop materials that are responsive to certain inputs [e.g. graphene] but the next step will be to develop multifunctional materials interacting with its surrounding.
Beyond smart materials we will develop strategies to react and evolve like nature. In doing so its fundamental to create synergies through interdisciplinary teams and new mental codes, skills and knowledge to build in a biosynthetic world. The answers are all around us… we should only learn to ask appropriate questions.
—César Reyes Nájera. PhD architect and publisher.
@cerreyes | dpr-barcelona
/// Exhibition [27th February - 24th May] 
Roca London Gallery. 
Station Court, Townmead Road, 
London, SW6 2PY
 | @rocalongallery