Defining informal. ateliermob for Homeland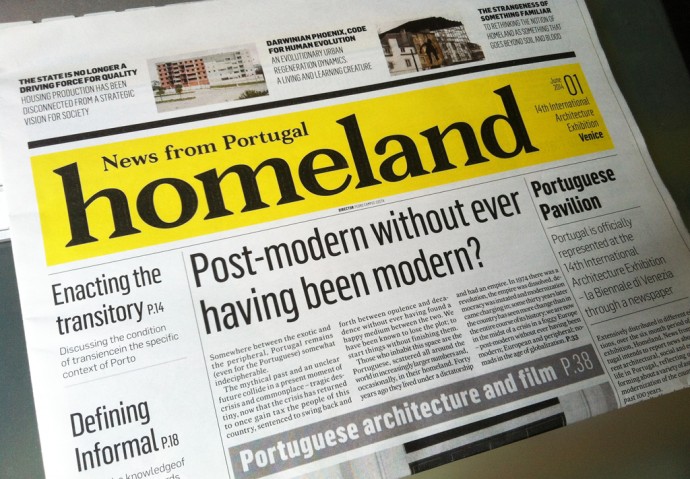 The Portuguese pavilion at the 14th International Architecture Exhibition at La Biennale di Venezia is called Homeland – News from Portugal and it's basically a newspaper with a critical reflection about issues related with housing, such as the right for housing, real estate, and evictions, among others. It is an interesting format in the current times, when housing issues are present in the mass media in a daily basis, from the US to Spain, going through the United Kingdom. The connection with our most recent issue is called 'House and Contradiction' is very close and representative about our concerns related with this topics.
That's why we are publishing here a text by ateliermob, originally written for "Homeland – News from Portugal" newspaper.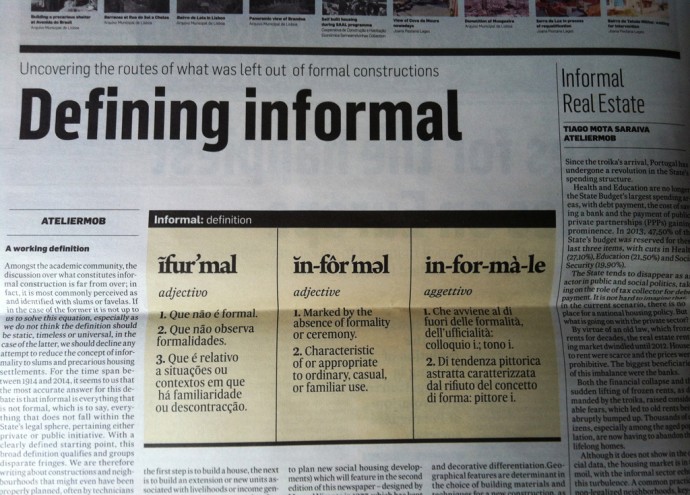 A trial definition
In the academic community, the discussion over what constitutes informal construction is far from over; in fact, it is most commonly perceived as and identified with slums or favelas. If in the case of the former it is not up to us to solve the equation, especially as we do not think the definition should be static, timeless or universal, in the case of the latter, we should decline any attempt to reduce the concept of informality to slums and precarious housing settlements. For the time span between 1914 and 2014, it seems to us that the most accurate understanding of the matter is that informal is everything that is not formal, which is to say, everything that does not fall within the State's legal sphere, pertaining either private or public initiative.
Departing from a clearly identifiable centre, this broad definition qualifies and groups disparate fringes. We are therefore writing about constructions and neighbourhoods that might even have been properly planned, often by technicians or construction foremen aiding local inhabitants, or that house more than just the most underprivileged social classes.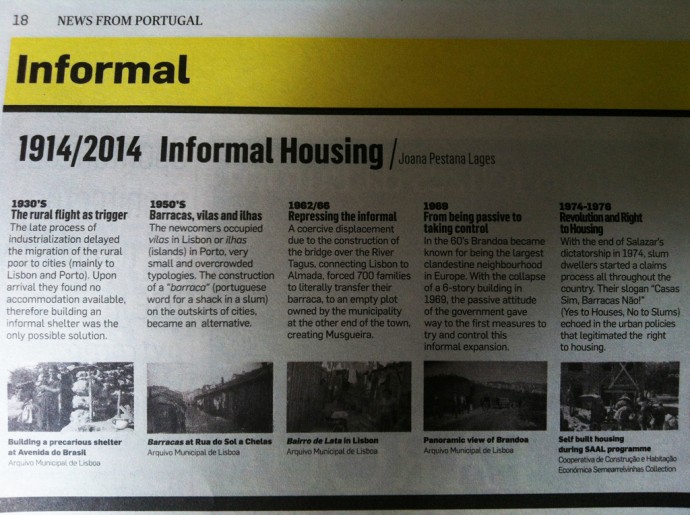 State of the art
In Portugal, the most thriving periods in informal construction dynamics are linked to historical moments marked both by migratory movements and the ensuing housing problems.
But informal construction is not limited to housing. Depending on the area and neighborhood, we often find workshops, small shops and businesses or rented annexes. If the first step is to build a house, the next is to build an extension or new units associated with work activity or familiar income. These phenomena are less frequent when local residents' associations are established and given some level of authority over the territory; there are fewer exceptions to housing, and these are usually the local recreational centre, the café, the residents' association or a building that serves all these purposes.
On the other hand, as a result of Portugal's financial context, it often happens that formal context is taken by the informal. Portugal Novo neighborhood, designed by Manuel Vicente [1977], is a good example. Over the last couple of years, several members of one gipsy community have settled into the neighborhood and occupied the empty houses, significantly changing their typologies and structure to suit their needs.
In the Portuguese context, it is not easy to identify the overall architectural and morphological characteristics of informal construction. With some exceptions, built structures do not exceed two stories in height and in the case of neighborhoods, copying local built solutions is common practice, in spite of a desire for decorative and identity differentiation.
Also, the geography on which construction takes place is determinant in the choice of building materials and solutions, owing to thermal and weather conditions, financial constraints or the building experience of the site's construction foremen.
Over the last couple of years, the reality of informal construction in Portugal has been changing. Actually, it is our belief that it is growing in parallel with the country's economic situation. When we are asked whether there is work for architects in Portugal, our answer is always yes. This is one of the domains where there is a lot to be done.
/// Ateliermob is a multidisciplinary platform for the development of ideas, research and projects in the areas of architecture, design and urbanism. The company was founded in 2005 in Lisbon, as a result of several works carried out by its founding partners. In parallel, they have been developing research work to support the project-oriented practice, an architecture blog, design, urban planning and participation in several national and international competitions. More info: ateliermob