The City with Equal-Sized Rooms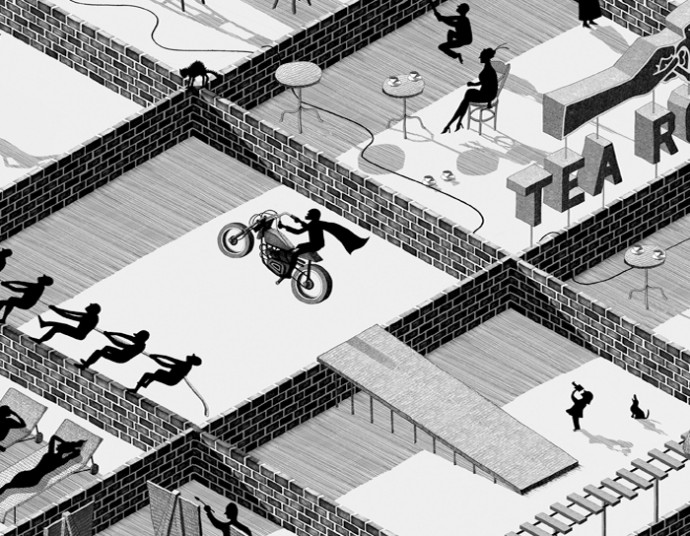 On his essay The House with Equal-Sized Rooms for Quaderns #265, Xavier Monteys starts with these words:
"Time occasionally seems to work in favour of certain ideas, acting as a powerful determinant that accumulates arguments, which in turn allow us to see the usefulness of things that, rather unwisely, we had initially dismissed. The house with equal-sized rooms is probably one of those things and today is one of the formulations that best express what a good house should be. Such a house does not distinguish its rooms by any use assigned to them a priori; in fact, its main virtue is that it leaves the decision on what we will do in them in our hands. The floor plans, structured into rooms of similar sizes, without any well-defined hierarchy, demand our attention now more than ever before for their simple defiance towards the hierarchical house formed by rooms of different sizes – sizes that determine what to do in them and also what not to do. In fact, a house with equal-sized rooms is a way of saying a house made of rooms, nothing more and nothing less."
And just a couple of weeks ago we found, featured in Horizonte 08, a project by Adam Simpson entitled 'Boundaries'. This is a graphic provocation, a floor-to-ceiling artwork, appearing on all sides of an elevator vestibule at the 'Boundary Hotel', situated on Boundary Street in East London. But it is interesting to go beyond and think how this graphic work raises some questions about the possibility of a scalable idea of Monteys' 'House with Equal-Sized Rooms' to a urban notion of a city with equal-sized rooms.
Adam Simpson is an artist and illustrator, but in the architectural field one evident reference of this idea is the project City Walls. Project for the New Multi-Functional Administrative City in the Republic of Korea, 2005 by Dogma and OFFICE Kersten Geers David van Severen. A city designed for 500,000 residents, organised as a sequence of rooms that are formed by 'city walls'. They ad:
"The city walls are a composition of cruciform buildings that represent two-thirds of the built mass of the city. These 'walls' form the habitable architectonic structure of the city. The spaces between the city walls are rooms without content, providing the space for further urban development. The future content is the furniture of the rooms, as it were. The plan seeks to define the form of the city in a rigid manner, without lapsing into the naïve modernistic ideal of the city as a fixed, predetermined organisation of buildings. The city walls and city rooms form the 'genesis' of the city, its bare facts. In this manner they fulfil the only role that can be ascribed to architecture: providing a specific inertia against the instability of life itself."
Even going back in time to 1969, the No-Stop City by Archizoom proposed an endless grid as the basis for a city designed for a society freed from its own alienation; free, therefore, to express in an autonomous way its own creative, political and behavioural energies, as Andrea Branzi described it. In this project, mass society and its correspondent city was envisioned as an endless ocean, with neither a centre and nor frontiers. Branzi wrote:
"In No-Stop City, this social dimension became a spacial dimension [...] the metropolis was seen as one large interior, a single space."
Hence, the three projects presented here are about cities without architecture, formed by large, anonymous containers divided by walls.
We want to end by paraphrasing Xavier Monteys, the ground plans of houses cities with rooms of similar sizes represent a way of understanding housing the city that, by reducing the form to such a simple and repetitive expression, places in the hands of the inhabitants the initiative of granting them meaning.