'Control. Design, authoritarian regime and the modern rhetoric, a socio political engineering affair.' by Leonardo Novelo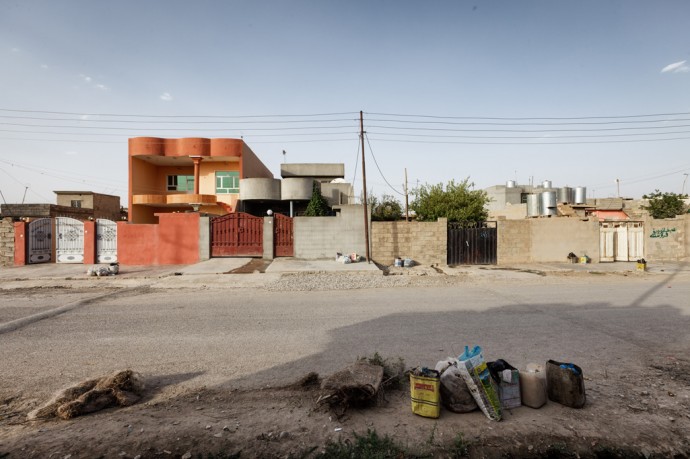 During the 1970's and 1980's Iraqi authorities fuelled urban planning to become a critical agent dealing with "the Kurdish affair". The role of design shifted to perform as main character of social engineering strategies to reshape society. A large scale set of environmental procedures with an ethno-political basis took place in northern Iraq, aimed to tame vernacular wit and format local habits, through the stratagem of order steered to determine definitive impacts.
The collective towns in Iraqi Kurdistan embody how the design of the built environment performs as device for political action. Imposing the idea of homogenized modernisation without any historical perspective they crop up as the materialization of the totalitarian state apparatus for infuse political plans on the ground. Setting terms and conditions over populations, design featured a key role applying political control based on territorial management, successive land reforms, massive relocation of resources, complex production structures and strategic enlargement of reproductible schemes followed by several organized layout systems of collectivisation.
Designing a model of state-owned land and forcing Kurdish tribal population—geographic and economically based on agriculture— to drift from their hamlets towards the urban areas, the Iraqi government ensure an atmosphere of dependency, of mandatory essential state-supply, dismantling local communities and production networks. Thus, razing Kurdish culture and local praxis through systematically destroying villages while enforcing evictions and depopulation, the modern rhetoric of optimization and services emerged as "solvent" reorganization, where entire communities previously settled on the mountains, had been relocate to settlements on plain lands, without agricultural and farmland activities. Drawing an homogeneous landscape of territorial units —designed on modulated patterns, gridded with perpendicular roads, uniformed neighborhoods, regular plots and generic typologies— called Mujamma'at (gatherings places) or Collective Towns, totally dependent from the State.
Although the Iraqi government claimed to have set services and supplies for them, the Kurds already had those facilities on their villages and rather than to stay in the new towns, they preferred to go back. It was after this first generation of massive relocated people "inspired" by progress and other rhetorics of a modern lexicon, that the second generation of Collective Towns — envisioned now as a political tool for struggle — became, according to Francesca Recchia, a new kind of "open air prisons", due to its isolation by a buffer zone and strict clampdowns to go back to their native villages. In physical terms, the urban design was focused to encourage control and reorganisation, and since that moment became an imperative, destroying thousands of villages and displacing hundreds of thousands of civilians to towns which facilitate the control by military tanks, to patrol over straight streets (where visibility and surveillance are clearer than on steep road hamlets). Thus, design boost rural communities transformation into easier urban targets.
As explained on Leo Novel's photo essay, authoritarian systems enforce order through urban design, but it's on the daily interactions, cultural expressions and activities, where the possibility of subversion relies. Recently, the expansion of Collective Towns into urban cores is encouraging upcoming scenarios for Kurdish urban development. Architectural variations start appearing overlapped into the original homogeneous, standardized housing systems. Organic and spontaneous alleys and labyrinth street systems are internally recolonizing the urban space, slipped into the regularity of the grid. And people are reoccupying the street by recovering their traditional behaviour and ways of inhabiting. Sometimes subversion starts by the simple means of taking home activities outside, to make them visible on the public sphere. This simple gesture enhances the possibility of sudden forms of spatial negotiation. Instead of massive changes, small actions. No political submission but collective subversion.
Francesca Recchia wrote: "The design of space is neither neutral nor innocent". It is a political operation.
—Leonardo Novelo, architect and founder / editor at INPUTmap.
/// Book review and reflections based on Devices for Political Action.: The Collective Towns in Iraqi Kurdistan, by Francesca Reccia and Leo Novel [dpr-barcelona, 2014]
/// More about Francesca Recchia's work at kiccovich.net
/// Mora about the photographic work of Leo Novel at leonovel.com
One Response to "'Control. Design, authoritarian regime and the modern rhetoric, a socio political engineering affair.' by Leonardo Novelo"