'A Fat House for a Thin Man,' Lars Lerup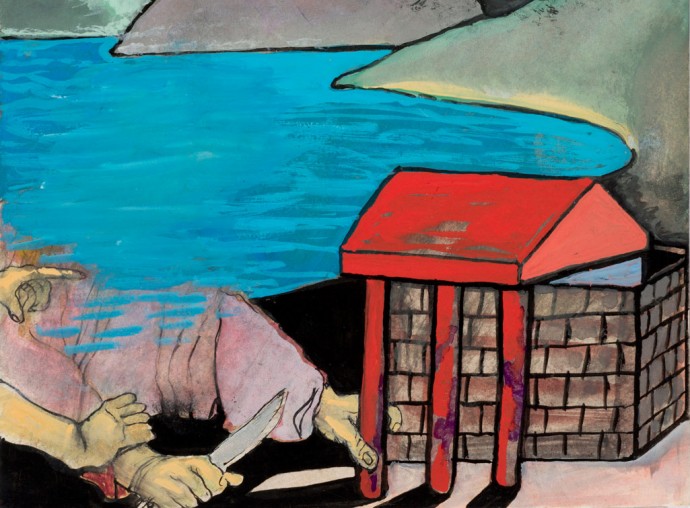 'A Fat House for a Thin Man' is the suggestive title of Lars Lerup's exhibition of drawings, currently on display at Betts Project gallery in London. It refers to a mixed-media work from 1975, produced during Lerup's early American years, and appears to be a statement that depicts an ideal of domestic and urban life imbued with humanistic and moral principles, but also recalls some attributes especially persistent in the city of Houston, Lerup's current home.
The other drawings in the exhibition belong to the same period and are grouped in series depending on their setting or compositional system, typically following a layout where architecture is set out as an autonomous object or still life. More generally, the exhibition reminds us of the virtuosity and expertise of Lerup's drawings, and the way his images are used as a tool to represent not only architectural themes, but also create subtle and elaborate narratives within them.[1]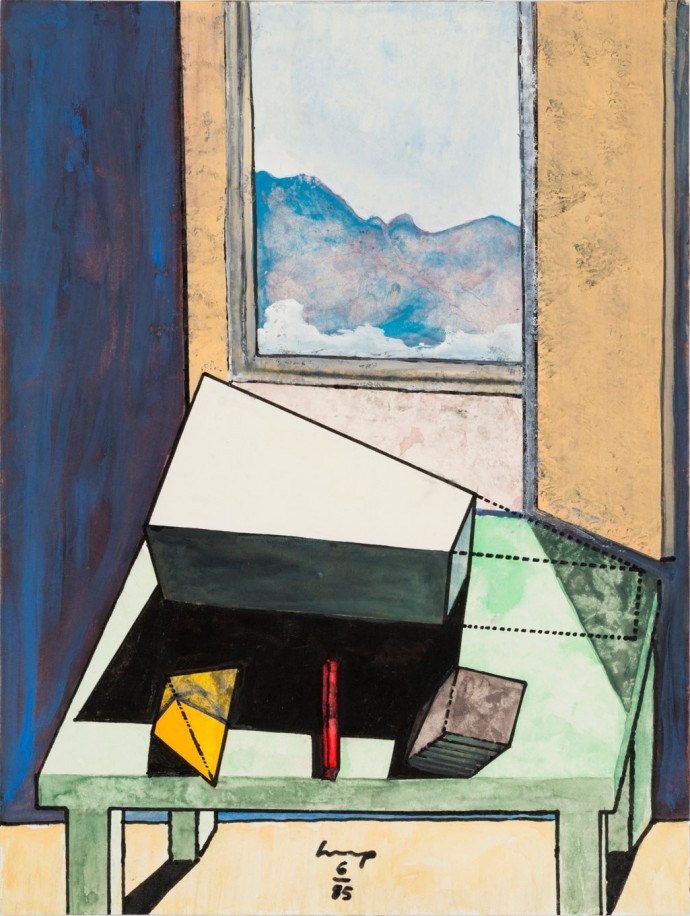 1234 House, 1985, water colour on paper, 24x18cm
Such is the case with Lukamanier Pass – 8, which shows two sets of hands in the bottom left corner of the image, one resisting the other, which, knife in hand, is about to cut into the structure of a building fragment, as if describing some premonitory event. The classical language of the building, formed by a group of columns and a pediment, is time-related to the robes draping the arms above the hands. These are only half visible, covered by the background, like ghostly images found in unrevealed layers of old documents. The event depicted (the fighting to avoid an attack on an architectural fragment) is a mental passage that takes place in a real location (Lukmanier Pass in the Swiss Alps, which borders the canton of Ticino, famous for its 1980s architecture), and which invites the viewer to figure this whole story out.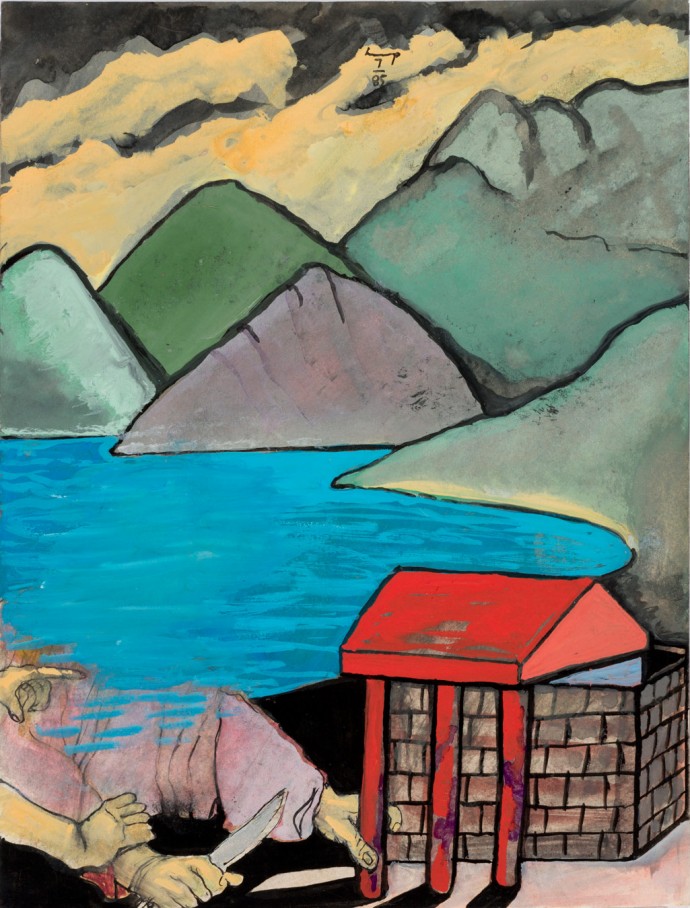 Lukamanier Pass, 1986, water colour on paper, 24x18cm
From a representational point of view, most of Lerup's drawings on display use oblique projection, often combining elements with different perspectives – a smart way to elaborate complex narratives, and something that would be more difficult to achieve with standard one- or two-point perspective. This kind of illusionistic projection also enables the viewer to be located closer to the subject, occupying the same representational centre where the action takes place.[2] As a device, the use of multiple projections recalls German fashion photographer Peter Lindbergh's favoured medium: 'Using 35mm is more like talking – conversational photography – while larger formats are like presentation. Thirty-five millimetre is like a part of your body. You talk and you take pictures; how people react to you and to your camera, that's what you can get on 35mm.'[3] The same conversationalism and commitment to analogue photography can be found in the work of Catalan photographer Xavier Miserachs, particularly the images applied to the walls of his house in Esclanyà. Here Miserachs created a beautiful patchwork of family images, mostly taken on the beaches of his beloved Costa Brava, a region where Harnden Bombelli built the Staempfli house – another architectural subject rendered by Lerup (Cadaqués, 1986).[4] This house, like the others displayed as a part of a series in this exhibition, is depicted as an autonomous object, detached from its urban context and immersed in a wasteland of dramatic scenery, like a poetic manifesto to human dwelling.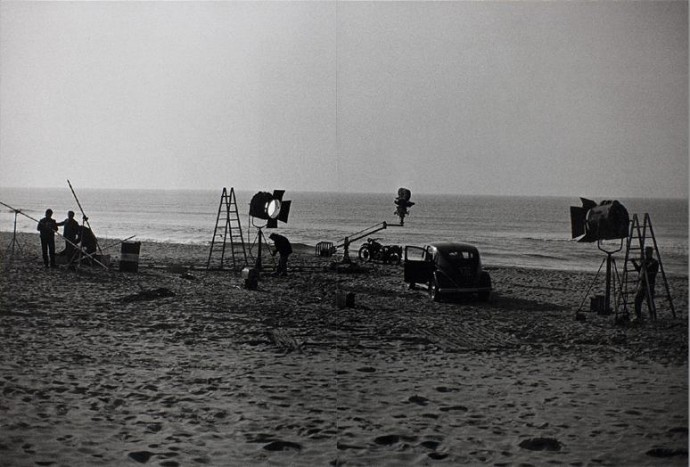 Set, Ostia, Italy 1991. Photo by Peter Lindbergh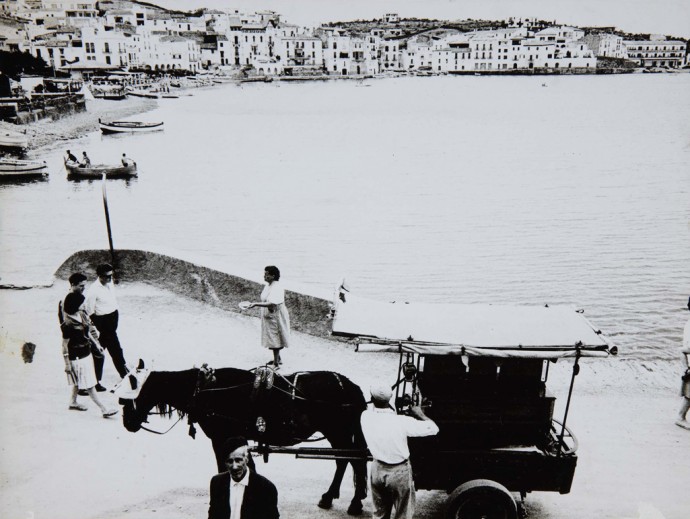 Cadaques, 1965. Photo by Xavier Miserachs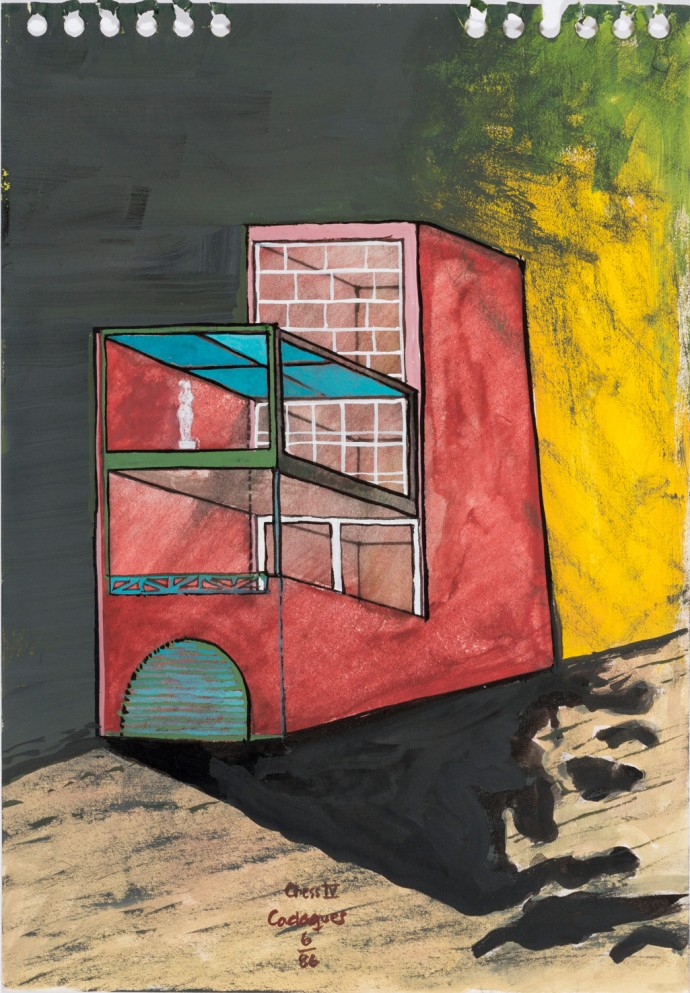 Cadaques, 1986, water colour on paper, 22x16cm
But beyond architecture, Lerup's work has also consistently dealt with the equally classical models of urbanity and the academy. From the perspective of his written work, and related to drawing, his latest book about Houston is an example of an author able to work simultaneously with visual and narrative content in order to communicate a wider set of ideas.[5] In this particular case, drawings are used as tools to explain complex urban events and conditions, sometimes of a diagrammatic or schematic nature, and seemingly produced at the same speed as his typing. In this sense, Lerup's drawings are imbued with a sense of humanity and wilderness that connects with the experience of living within a Texan environment, with its humid, subtropical climate as the everyday experiences of driving fast expensive cars over freeways. Ultimately these contradictory features – yet more fatness and thinness – is what most characterises Houston as a living environment. And although his books suggest larger, more deployed narratives than just drawings, these last ones are ultimate instruments to tell, suggest and put us closer to some of the many stories they contain.
—José Zabala, editor at Quaderns.
_____
[1] For additional Lerup material go to the database of the CCA or see the following link.
[2] See: James S. Ackerman introduction to Massimo Scolari's Oblique drawing. A history of anti-perspective. MIT press Writing architecture series, 2012.
[3] Peter Lindberg, Artforum May 2016, Volume 54, Issue 9.
[4] Manuel Martín et. al., El Cadaqués de Peter Harnden y Lanfranco Bombelli. (Col·legi d'Arquitectes de Catalunya, 2002).
[5] Lars Lerup, One Million Acres & No Zoning. (Architectural Association, London, 2011).
/// The exhibition 'A Fat House for a Thin Man,' is being exhibited at Betts Project. Betts Project is a London-based contemporary art gallery specialising in architecture established in 2013 and founded by Marie Coulon.
/// Marie Coulon is the founder and director of Betts Project. She arrived in London from Bordeaux, France, in 2010, having studied at the Ecole d'Enseignement Supérieur d'Art de Bordeaux (EBABX), and worked with Arcade gallery until 2012. At the same time she has worked with curator and critic, Chantal Pontbriand, on a variety of projects including Mutations (Paris-Photo 2011) and Parachute Anthology (2012).
/// We want to say thanks to Thomas Weaver, for his kind advise, reviews and edits on this text.