Peris-Toral: Can PuigGener civic center extension, Sabadell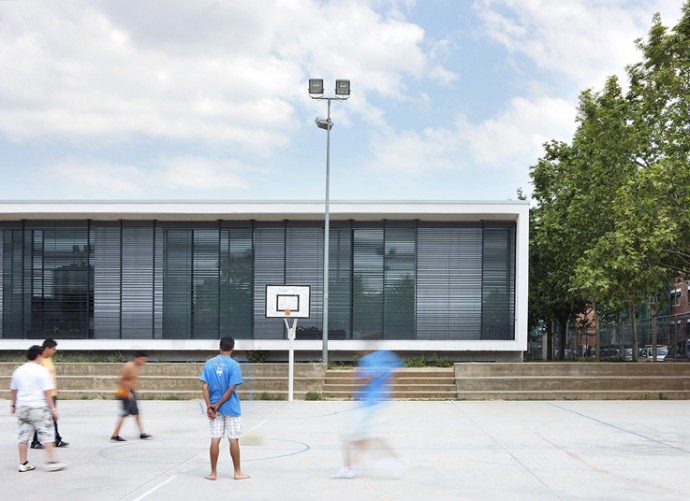 The proposal provides an L-shaped site that forms a courtyard with the pre-existing building. This is an intermediate space that links the library, lobby and extension.
In this exterior space are planted four deciduous trees (poplars). They serve to  bring character and shade to the patio, as well as to improve the climactic behavior of the existing building.
A variety of concrete finishes and beds of fragrant vegetation draw and add color to a series of bands between the pavement gaps that mark the structural lines shared by  both buildings.
An intermediary flat roof acts as a connector between the two interventions. This piece provides a certain independence between the new and old. This is a lobby/exhibition hall that visually relates the two patios of the complex and provides an emergency exit and an output to the sports ground. This space also houses a small room for the janitors.
The new intervention has a pitched roof that reinforces the idea that the building opens southward towards the surrounding views. This roof also provides variations in height to the interior space, reaching its highest point in the multipurpose room. The new and the old are related to one another in section by means of a sheet metal roof that keeps the same slope as the existing building. At this point of proximity between the two buildings appears an intermediary body that houses services and storage for the multipurpose room.
The southern wing includes a relational space connected to the exhibition hall with an accordion door system. The doors can be withdrawn to  join the two rooms  into a single area, giving the building greater flexibility of use.
Moving forward, a corridor visually opens onto the patio, organizing access to two classrooms, an office with four workstations, a storage room and a band of  services. The multipurpose hall is situated in the northern wing, at the end of the hallway in an expansion of the corridor that allows patio access.
A canopy protects the southern facade, generating at the same time an intermediate space nuanced with a blind. The front terrace serves as a thick facade that filters light and sightlines. The gallery maintains a slightly elevated 30 cm over the interior level, reinforcing the idea that the building, resting on the steps of the sports court, faces towards the surrounding views.
The system of sun protection also acts as a safety measure, ensuring the new building can be closed securely.
Consultants: Instalaciones y Estructura: L3J, Jaume Pastor y Jaime Pastor.
Collaborators: Cecilia Rodriguez, Albert Rubio, Maria Ubach, Cristina Porta. Arquitecto técnico: Georgina Torres
Area: 581 m2
Budget: 659.715,70€
Promoter: Ajuntament de Sabadell
Photography: José Hevia