[ARQUITECTURIA]+ Adrià Felip: New public library at Caldes de Malavella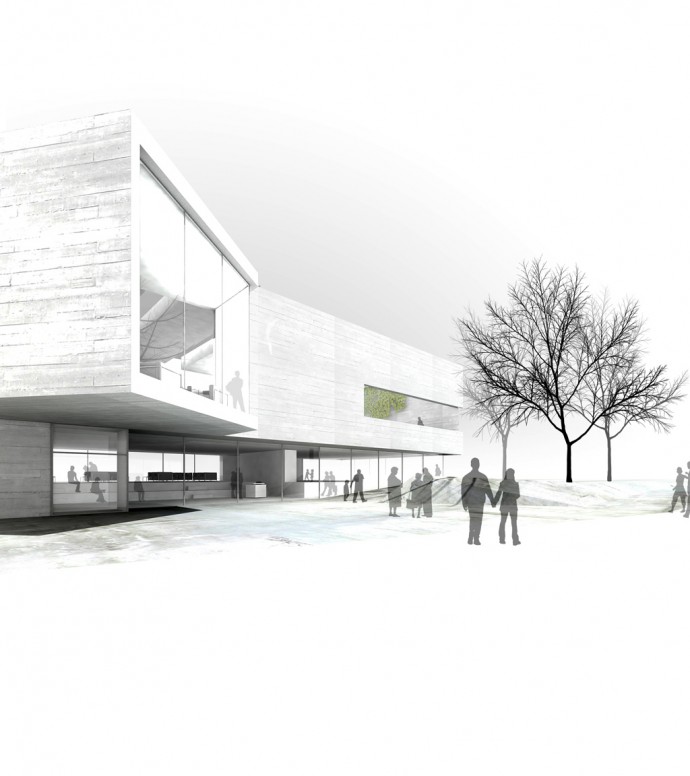 The site of Caldes de Malavella's new library is situated where the old town meets the new growth of the city.
Also, the site is in the north-south axis where all the public buildings are located.
Through this first large scale analysis it is understood that the new Caldes de Malavella's library needs to be developed following these two principles. However, after doing a more detailed study of the site and its context these first guidelines become weak.
Therefore the only way to relate the new library to the old town is visually.
From this second zoom and the comprehension of the surrounding public spaces we conclude that the building cannot turn its back on the squares next to the site. This is why the introverted reading space is located on the first floor, while the ground floor acts as a part of the topography that connects and relates the two squares which are tangent to the new library at different levels.
The building has a porous concrete structure, which generates an introverted, calm and cosy atmosphere. Exterior and interior are intertwined and create exterior reading spaces and interior meeting spaces, approaching the new library to the citizens.
[Arquitecturia] are Josep Camps + Olga Felip
Location: c. Girona, 2 17455 Caldes de Malavella
Collaborators: Mariel·la Agudo, Aitor Horta, Jaume Farrés, Irene Solà
Area: 1444.9m2 construidos
Budget: 1.261.066,75€
Images: Renders: 72dpi, Model: [Arquitecturia]