Carlos Ferrater: The Counter-Instant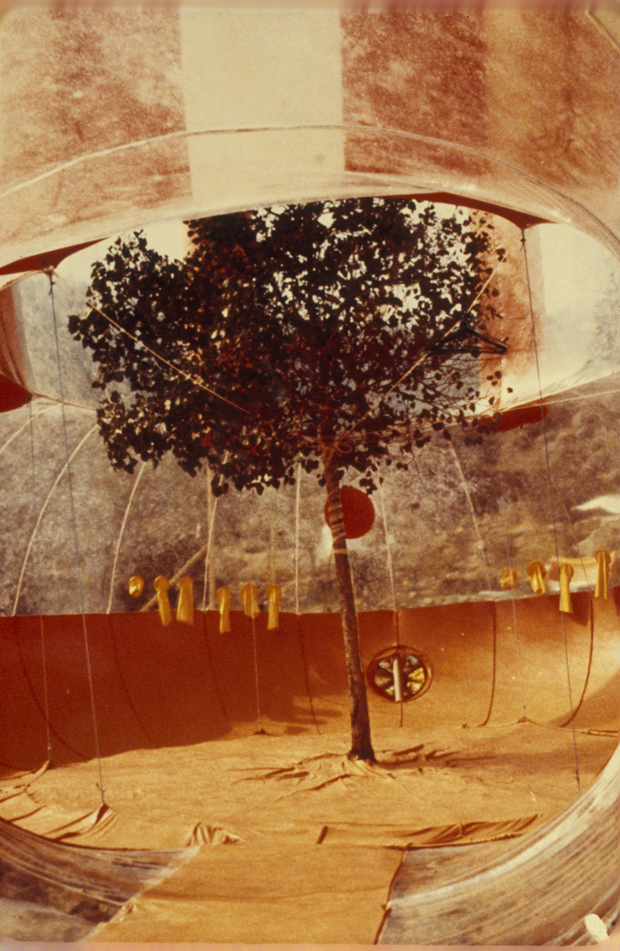 Quaderns #262
code: 26209
Among the driving forces beind the Instant City, there were people such as Fernando Bendito, an anarchist, and Borja Arquer. Around that time we had started to form a group called "Urquinaona Open Design Group". Then an opportunity arrived in the form of the Ibiza congress of September 1971, organised by the FAD, with Giralt-Miracle in charge.
In February of that same year we went to the organisers, saying that we wanted to take part, but their response was that everything was already arranged. Together with Fernando Benito we then asked them about the students and their accommodation during the congress. The organisers' plan was to provide a plot of land for the students to camp. So Fernando and I offered to take care of the matter, despite the very tight budget. We signed, we took charge, and we set to work. We were also in contact with Luis Racionero, recently back from Berkeley. My brother designed the poster. The manifesto/invitation was on tissue-type paper, thus keeping its weight down for postage.
We sent that manifesto all around the world. By March, we had received more answers than those obtained for the congress itself. Then we went to visit José Miguel Prada Poole, who was very knowledgeable about the issue, and later, the company Aiscondel, in search of plastic.
To convince them about sponsorship, first we had to a test in Cerdanyola for which José Miguel travelled from Madrid. That first test was carried out with joints stuck together using double-sided tape, which gradually slipped. José Miguel designed a joint in which the staple is subject to hardly any tension.
People came to Ibiza from all over. I remember that there were a couple of Belgian or Dutch men, with whom we produced an inflatable shaped like a three-cornered hat: a tribute to the Civil Guard, who constantly hassled us. Moreover, the congress-goers had a guilty conscience and they would bring us food or invite us to hotels, which we would not enter because we were not dressed appropriately, and we had to stay out on the terrace.
And at the Instant City, an assembly was formed. Cooperatives were created that went to do the shopping in Ibiza Town in a van owned by some hippies. Then we constructed the toilets, latrines, open-air showers, etc. That was the "committee for the Instant". It was agreed that there would be no names, no author's signatures. However, although there was a minimal organisation – similar to a traditional cooperative town – and eventually roles were created and repeated. That was the end. The result was that the instant city, as a counter-cultural model of protest against hotels and the official congress which was completely dominated by English-speakers, also generated its own counterculture.
Many of the Instant's people detested that community experiment, because it ended up generating its own rules for coexistence: no music to be played at night, notices everywhere, food, cleaning shoes, etc.
It turned into a bourgeois mini-city and so then a small group of us took some plastic, went off into the mountains, and built a counter-Instant city on the slopes above Cala San Miguel, with sticks, reeds, boxes, cardboard and the bits of plastic we had collected. A countercultural group. The counter-Instant.
However, the Instant worked magnificently as a place for collective experimentation and shared experience: we cut and stapled as a group, but, once completed, we should have destroyed it, we should have gone along destroying it as we built it.
Nonetheless, in amongst it all there were valuable points: the idea of recycling, the idea of saving and incorporating a tree, the irony of the three-cornered hat, collective work, work as a specific element in relationships, anonymity, leisure.
We defended the idea that in a technological society, leisure possibilities be offered. A society with a productive surplus should offer leisure time, leisure organised creatively, interdisciplinary connection. Creation was understood as an element of human salvation. However, the kind of leisure that we were demanding, linked to a vital experience, was very different to what can be offered by the theme park that modern-day leisure has become.
Although nothing remained of all those utopias, at that time it was a route for escaping a regime, against an institution. We were rebelling somewhat against discipline itself.
For a long time I didn't talk about the Instant. Many of the people who accompanied me in that experiment gradually disappeared, so I buried the subject and tried to never unearth it again. I filed everything away.
It was Yago Conde, who knew about the experience and with whom I worked on the renovation of an abandoned warehouse on Calle Regina who encouraged me on several occasions to talk about the project once more.
When Yago died, I decided to explain once more, in his honour, the Instant. I did it for the first time during that year's course inauguration at Barcelona's School of Architecture.
One Response to "Carlos Ferrater: The Counter-Instant"