Conxita Balcells: Social Service Center at la Prosperitat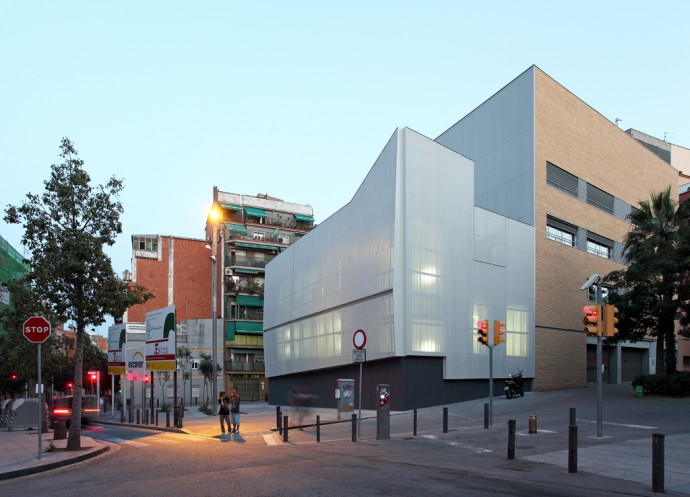 Quaderns #262
code: 26219
Key elements to define the architectural proposal arise from the program analysis of the building, wich requires a high privacy level, even though it's in front of a public space.
The building volume occupies the whole plot area and has a variable height. The maximum height at Enric Casanovas street is 14.30 m, and  14.15 m. at Pablo Iglesias street.
The whole building is covered by a skin, ventilated and perforated, which ensures good climate comfort and ensures enought privacy. All openings are protected, and they appear on the street as a shadow play, creating a very comfortable interior light gradient. The double skin adopts different configurations and adapts to the different facades.
The main entrance is down Enric Casanovas street at ground level, where all public functions are located. To ensure good performance, we have established two separate circulations, a public one taking part on the ground floor and another private one throught the other floors.
Considering the deadlines of the project, we've choosen a light and fast construction system.
Consultants: Lluís Cañizares - quantity surveyor Juanma Salvadó - quantity surveyor Marc de Jaime –  mechanical Bernúz-Fernández - structure
Collaborators: Oriol Ribes architect Elena Molina  architect Francisco Mouzo  architect
Area: 673,48 m2
Budget: 801.310,43€
Photography: Marcela Grassi