Pau Faus: 'The Retired City'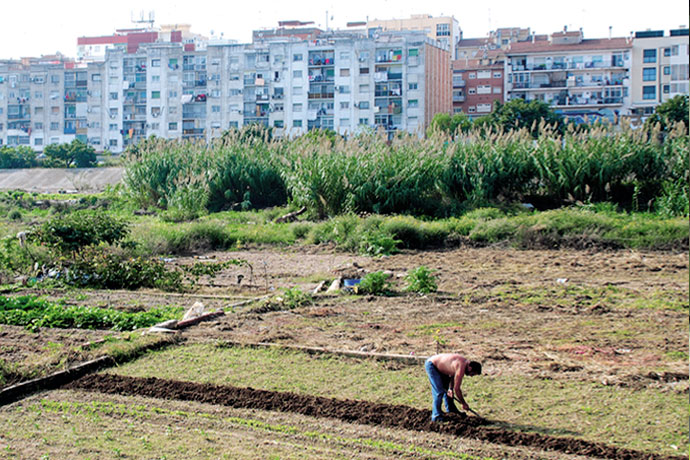 The Retired City. Brief Dictionary on the informal gardens of the rivers of Barcelona
This research project is an investigation on the self-constructed gardens around the rivers of Barcelona. The work was formalized as a book  'La Ciudad Jubilada (The Retired City). Brief Dictionary on the informal gardens of the rivers of Barcelona' and also as a video documentary.
Beyond the particularities of this specific case study (and its particular context in the Barcelona surrounding areas), what was relevant in this research was to reflect on the always complex coexistence between formal and informal ways of urbanity. The gardens allowed us to approach one of the many autonomous and 'disobedient' practices that continuously shape the contemporary city. Practices that, far from being simply incidental, can give us many clues about what is really happening behind the supposed urban order.
'La Ciudad Jubilada' was slowly developed during many explorations around the two main rivers of the city of Barcelona, the Besòs and the Llobregat. What led us initially to these gardens was the curiosity to document their particular architectures and forms of occupation. But, after many visits, the retired citizens responsible for this whole transformation became our main characters. Their autonomy when it comes to take and cultivate a land that does not belong to them became the main theme of our research. We saw in that spontaneous and silent 'dissidence' an outstanding lesson of autonomy in a society that insists on assimilating 'Retirement' to uselessness and dependency.
You can consult the book and collaborate to reprint it here
Author: Pau Faus 
Collaborators: Eleonora Blanco, Julie Poitras Santos, Virginia Colwell, Martha Pelayo, Azucena Lozano, Erika Yurre. 
Web: www.paufaus.net