Flexo Arquitectura: Day center and community activities.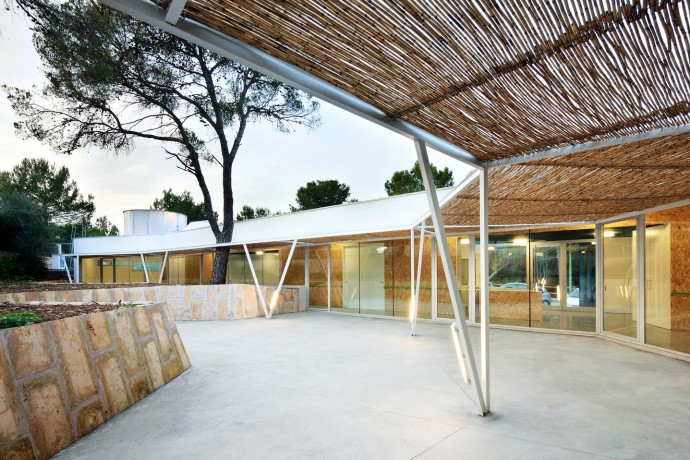 Quaderns #263
code: 26318
In a suburban residential area, situated at the edge between the periphery and the urban tissue of Palma, we are asked to propose a day center and community activities for a small budget: 620€/m2. The proposal is based on three basic principles:
1.COLLECTIVE AREAS 1. Collective Areas
We understand the project as an opportunity to enhance relations and collective activities in the center. Therefore, the building is arranged around a large and sunny private garden, sheltered from the wind and protected from pedestrians' view, that articulates all the activities.
2.CHARACTER 2. Character
We propose the consolidation of the center's institutional character as the articulator of the public area by the building's image, therefore, we use a unique colour (white) in order to unify the different materials used on the facade.
3.RESOURCES 3. Resources
Because of the economic budget constraint of 620 €/m2, we propose to give a hybrid answer, combining local (artisan) techniques and materials, with global (industrial) techniques and materials. This way, we can optimise the resources offered by both sectors. We will use the architectural form as a strategy for sustainability emphasising passive strategies. In short, we are interested in the ability of any project to give a meaning within a specific cultural context using an unprejudiced
attitude allowing us to find opportunities even in the apparent worthless. We propose using particular cultural contexts as opportunities from which to build the project's strategy. We chose an inclusive and unprejudiced attitude that doesn't discriminate neither this or that, but opts for this and that.
Adress: C. Pensament, 5 Palma de Mallorca.
Consultants: J.P Rodríguez (structure); Bàrbara Estudillo (quality surveyor); T. Aguilar (mechanical)
Collaborators: Albert Gener, Cristina Oliver.
Area: 530 m2
Budget: 350000 €
Photography: José Hevia