Urtzi Grau: 'Three replications of the German pavilion'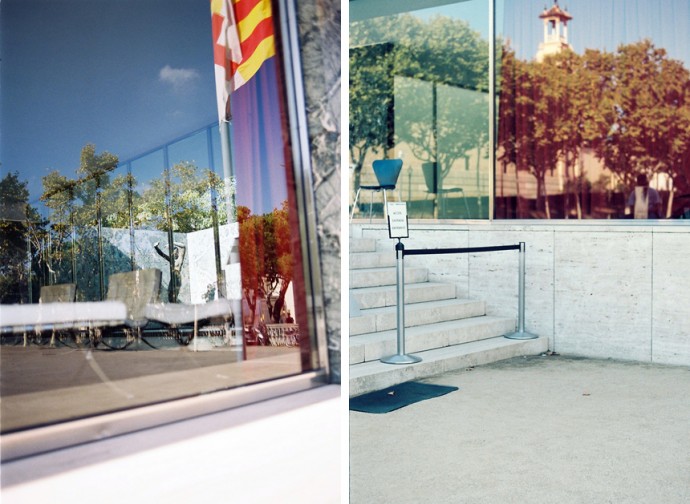 Quaderns #263
code: 26313
Following the closure of the International Exposition of Barcelona in 1929, the future of the German Pavilion designed by Mies van der Rohe hung in the air. Initially a commercial solution was sought, but following the breakdown of negotiations with a local restaurateur interested in opening a restaurant, it was decided that the building would be dismantled. The fate of its remains is still uncertain today. We know that the chromed steel returned to Germany, the metallic structure was sold by weight in Barcelona and the foundations remained on the plot, covered by a garden of palm trees. Mies reused the structure of one of the Barcelona stools for a low table at his apartment in Chicago, his collaborator, Dr. Ruegenberg, converted one of the onyx panels into the desk of his house in Berlin, and Philip Johnson managed to get hold of one of the Barcelona chairs which can still be admired today at his Glass House in New Canaan.
Perhaps the scarcity of remains accelerated the urgency of its reconstruction. As early as 1957, Oriol Bohigas wrote to Mies to commission him to build the pavilion once more. The German architect accepted immediately, but the project never came to fruition, inaugurating a series of failed attempts that continued after his death: 1964, 1974, 1978, 1980, 1981…
Its material disappearance was not the only stumbling block. The pavilion existed as a series of images that had circulated in architectural publications, but most of the original plans were lost in the haste of Mies's move from Germany to the United States. Furthermore, it was impossible to talk of any definitive documentation, given that the design and construction process had undergone numerous last-minute changes. In short, the few remaining original documents did not coincide with the photographs. Its reconstruction would require a twofold operation: reconstructing the materiality of the Repräsentationspavillon originally commissioned to Mies, and selecting those documents that would validate the decisions taken, in other words, constructing the pavilion's history.
This was the case for the three reconstructions completed in 1986 in Barcelona (Ignasi de Solà-Morales, Cristian Cirici and Fernando Ramos), Madrid (Josep Quetglas) and Milan (OMA/Rem Koolhaas), to coincide with the centenary of Mies's birth. Each of them led to a materialisation and was based on a selection of documents that was radically different, illustrating three histories of the Modern Movement that use the pavilion as a historiographic argument.
[…]
Keep on reading: Three replications of the German pavilion PDF
One Response to "Urtzi Grau: 'Three replications of the German pavilion'"