CGP architects: Rubí sports center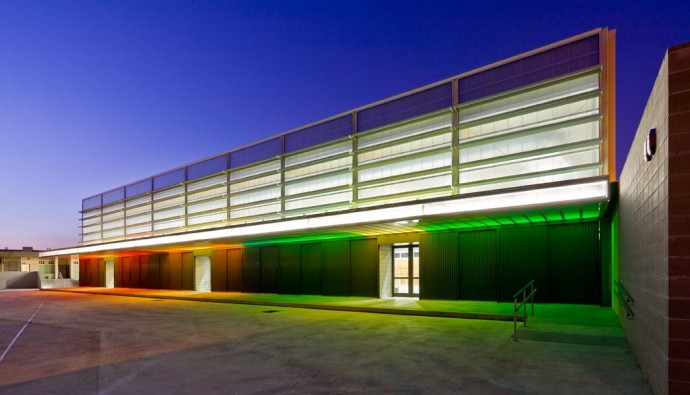 Quaderns #263
code: 26328
The construction of the Maristes-Rubí Sports Center  is located on the north side of the current school building. The space we were able to use was limited to north and east by a small grain fabric of residential streets, to west by the actual existing changing rooms building, and to south by the school itself.
As the volume of this building tipology is quite big, it is positioned in the most carefully way in relations with the surrounding buildings. Thus, the building goes back on the alignment of the Pintor Fortuny street and proposes a green strip that keeps us separated from the smaller houses. Facing Ca n'Oriol street stands a lower volume that allows a more gentle relationship with the blocks placed in front. This part of the building contains the services, a storage room and climatization systems. In the existing dressing rooms building side (the opposite), another lower volume is placed to be used as a stage for scholar plays and performances. The accessibility between this building and the playground and the new facility is solved by adapted ramps ans stairs. Finally, the main acces to the sports center is located at the south side, creating the main facade in front of the school and the smaller yard that remains. This acces is formalized with a cantilever of about 3,5m that works as an outdoor lobby.
For the construction of the building we use industrial processes in order to minimize the execution time and the interference with the normal development of the school. The project aims to qualify the building with the careful treatment of the natural light, the crossed ventilation and through the value given to the structural and constructive solutions used.
Author: CASANOVAS, GRAUS, PÉREZ architects (Ana Pérez Lázaro i Joan Casanovas Miñán)
Consultants: Structural: Guillermo Barenys y asociados Mechanical: PGI engineering Project Manager: Edetco tècnics
Collaborators: Mireia Salvadó Pellisa, Marcos Batista Viana de Souza i Íñigo Gómez Arribillaga (architects)
Area: Built: 1.660 m2 Site Area: 3.980 m2
Budget (PEC): 1.690.000 + IVA
Photography: Francisco Urrutia