Quaderns #265 — This issue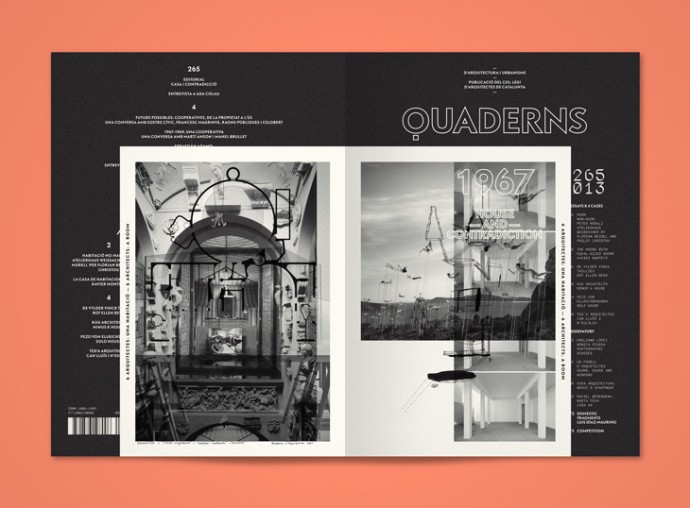 Quaderns #265
VISUAL ESSAY
. 6 Architects: A room
Anne Holtrop, Aristide Antonas, Baukuh, De Vylder Vinck Taillieu, Elías Torres, Luis Úrculo.
EDITORIAL

P02 House and Contradiction
P04 Interview with Ada Colau
4 ESSAYS x 1 CASE
P09 Possible futures: Cooperatives, from ownership to use. A conversation.
P13 1967-1969, A cooperative housing block. A conversation with Martí Anson and Manel Brullet
P18 Property trust. Sebastián Adamo.
P22 Diyarbakir: Housing the city. Interview with Martino Tattara (DOGMA) and Caglayan Ayhan-Day, by Roberto Soundy.
ARCHIVE 
Cuadernos de arquitectura nº 68/69, "Revista de revistas", 1967.
P27 Hans Ulrich Obrist in conversation with Kazuo Shinohara.
P31 Critical metabolism. Interview with Yoshiharu Tsukamoto—Atelier Bow Wow.
2 ESSAY x 4 CASES
P36 Room Non-room. Peter Märkli, Atelierhaus Weissacher by Florian Beigel and Philip Christou.
P42 The house with equal-sized room. Xavier Monteys.
P46 De Vylder Vinck Taillieu. Rot Ellen Berg.
P50 Kuu Architects. Minus K House
P54 Pezo von Ellrichshaussen. Solo House
P58 Ted'A Arquitectes. Casa Lluís i n'Eulalia
OBSERVATORY
P63 Emiliano López-Mónica Rivera. Photographic diaries.
P66 Un parell d'arquitectes. Room, doors and windows.
P68 Vora Arquitectura. Mercè's apartment.
P70 Rafael Berengena, Marta Poch. Casa AA.
SUPLEMENT

P72 Domestic fragments. Luis Díaz-Mauriño.
2 Responses to "Quaderns #265 — This issue"